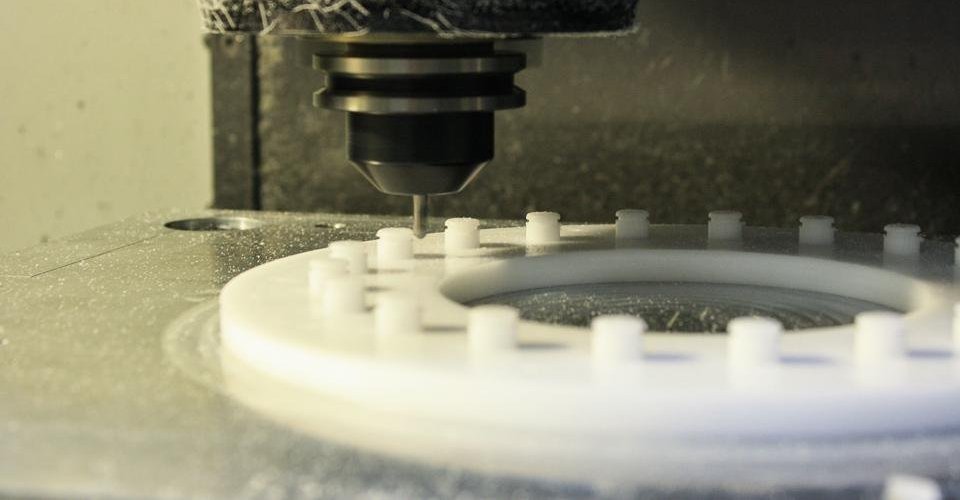 Plastic processing on CNC milling machines
Plastic (or plastic) is an organic compound based on natural or synthetic high molecular weight polymers.
At present very widely used plastics are made from synthetic polymers. The term-called "plastic mass" refers to a method for producing plastic products - by heating the feedstock and the subsequent molding. After cooling, the plastic retains the shape given to it as a finished product.
plastics manufacturing technology is simple and cheap, allows the use of stabilizers, modifiers, pigments and, therefore, a flexible change of the final invoice. That's why plastic products widely spread, both at home and at work.
As a structural plastic material has a number of valuable properties - low density, low thermal and electrical conductivity, resistance to moisture, acids and alkalis, physiological inertness, etc. It is therefore not surprising that the plastics actively displace other construction materials, including such "traditional". as wood and metal.
Our company is able to handle all kinds of plastic on their own equipment with CNC control. We operate as a sheet and with a rod material. Our masters will daily produce high-quality processing of materials according to the drawings and models of clients.
Mechanical plastic processing
Due to the relatively small hardness, plastic products respond well to machining, in particular - machining. This makes it possible to use plastic products advanced automatic CNC equipment, in particular - milling machines.

Blanks made of plastic often come:
• rods (square or circular cross-section);
• sheets (of varying size and thickness);
• a standard profile (T-bar, I-beam, channels, angles, etc..).

In the present state of our modern equipment in the park, may produce fine detail and high partisanship differing accuracy and quality of processing. Using our material and our ability to process the material, we provide a flexible system of discounts.
Using modern CNC milling machine we are able to pre-programmed to give a plastic preform the desired geometric shape, handle projections or hollows, cut hole applied to the surface inscriptions or drawings, and even cut complex 3D-topography.

When milling plastic processing one of the main advantages is the quality of the cut. The end surfaces are matte, glossy, and if desired, can be processed to a mirror finish! Edges and edges have any aesthetic appearance, without chips and dents and do not change their original color.


We pay special attention to the production of parts from fluoroplastic, ptfe. By offering services such as:
Milling of fluoroplastic (PTFE) - we provide services for high-precision processing of fluoroplastic using CNC milling equipment.
Turning fluoroplastic (PTFE) - on turning equipment with CNC we make parts from fluoroplastic with maximum accuracy.
PTFE sawing - we offer preparation of PTFE material in sheets, pipes or rods / bushings.
Drilling fluoroplastic - we offer drilling of holes and cavities in fluoroplastic materials or fluoroplastic parts with maximum precision.
Stamping of fluoroplastic (PTFE) - on the "push press" equipment we offer the most precise parts made of fluoroplastic (PTFE).
If you have any request on material processing, feel free to contact us for advice, we are happy to assist you and orient you in the prices and processing capabilities. For prompt response and reviewed your ideas, sketches enough otaprvlenogo products to our email.