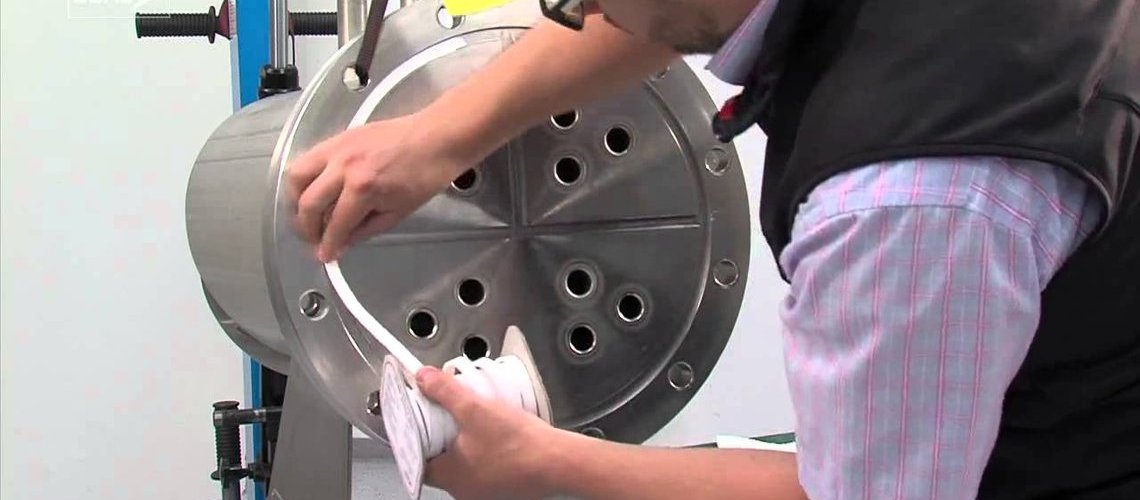 Sealing tape of expanded PTFE
Expanded (thermally expanded) PTFE is made of 100% pure PTFE.
Thanks to a special manufacturing process, which resulted in a fiber structure is created, the resulting sealing material possesses unique mechanical properties. The material is elastic and flexible at all temperatures, this execution is referred to as "foamed".
Sealing tapes made by this method are the latest achievements in the field of sealing materials. Depending on the application, the tape come round and rectangular.
This is one of the most high-performance, reliable, convenient and cost-effective sealing material to date. Tapes from expanded PTFE enable maximum reliability and efficiency of sealing compounds with damaged, uneven sealing surfaces.
Particularly convenient to use PTFE tape for work "on the spot", as this product is provided with heat-resistant adhesive which allows installation of the seal in an environment where the use of prefabricated gaskets made from other materials is limited or impossible. The tape of expanded PTFE allows to seal pipe flanges and other connections of large diameters with virtually no restrictions.
The tape is pliable, easy to use, easy to cut, which ensures the absence of scraps and waste!
Using tape of expanded PTFE significantly reduces the time for maintenance or repair costs of connecting nodes.
The use of expanded polytetrafluoroethylene tape eliminates the need for expensive purchases of finished gasket PTFE sheet and leads to significant savings in the enterprise. Also, there is no need for the content of the large inventory of finished pads.
This material is unique in the present, as in the processing has not lost its properties of PTFE. As the sheet or web-like material, it has all the required certificates DVGW for gas, as well as resolution of BAM for oxygen, sootvetstvuyuet FDA requirements for materials used in contact with food.
The material is resistant to all media except the dissolved and molten alkali metal and the atomic fluorine at elevated temperature and pressure indicators.
| | | |
| --- | --- | --- |
| pH value | pH | from 0 to 14 |
| Working temperature | °С | -269 to + 260 |
| Operating pressure | Bar | vacuum -0,9 to 200 |
| Max. tensile tension | MPa | 7 |
| Density | g / cm3 | 0,9 |
| Structure | PTFE | 100% |
| Available thickness | mm | 1 to 50 мм |
Material for sealing and detachable fixed sealing compounds, including reinforcement flanges, tanks, piping flanges, manifolds and flanges hydraulic, pneumatic systems, etc. It allows maximum reliability and efficiency of sealing compounds with damaged, uneven sealing surfaces.
It works equally well as a PTFE to metal surfaces, and glass, plastics, ceramics, enamels, etc.
Tape can operate in environments of strong oxidizing agents such as nitric acid, chlorine dioxide, sulfuric acid of high concentration (Oleum) and others, except for molten alkali metals and elemental fluorine.
All dimensions are thermally expanded PTFE tapes are always on stock in Riga, Latvia!
For more information about the product you can get from our managers by phones specified in section How to find us.